The Flake System is a decorative and resistant wall covering system obtained by spraying the flakes on a slow-drying base. Once dried, the flakes are covered by a transparent acrylic varnish.
By mixing flakes of different sizes, shapes and colours you can create a multitude of effects.
Flakes sizes
1mm

3mm

5mm

15mm
Application
Easy to apply, this system in the aquatic phase is a covering that can easily be maintained, it is washable and very resistant. It is classified as M1 fire-resistant on plasterboard N° JO30892-CEMATE/1.
This system with no pattern to match is ideal for an application in private and public premises (locations frequented by a large public, hospitals, schools etc.).
The different steps of application
Preparation of the base
Before application of flakes, it is required to prime the walls. (Mineral Prim is recommended).
Application of the base
With a medium hair paint roller (12 mm) apply the special acrylic flake base in a proportion of 200 g/m².
Flake projection
By means of the Pistofloc flake gun spray the flakes on the still wet base 200 g/m².
Application of the varnish
Using a paint roller, apply the acrylic varnish over the flakes 100 g/m², and spread the varnish across all edges and corners.
Conditionnement : Kit de 10 m² ; 25 m² ; 50 m² ; 75 m² ; 100 m²
Tint examples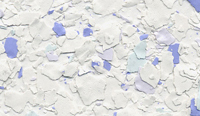 Ref. 45 621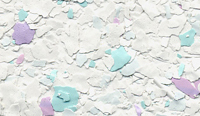 Ref. 45 630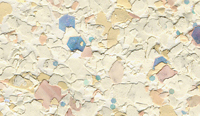 Ref. 45 631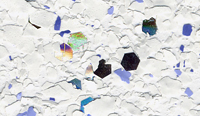 Ref. 45 621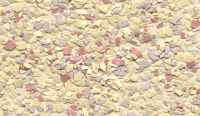 Ref. 45 630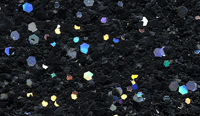 Ref. 45 631