Berlingot is a series of 55 unique two-coloured flakes available in 3 granulometries. (3 mm-5 mm and 15 mm).
The Berlingots are used alone or mixed with monochrome flakes.
When used alone, the Berlingots have a look of natural stone like granite or marble.
Mixed together with the monochromes, fine stripes of the Berlingot flakes, the warmth of merging shades or toning additives enliven your walls. While remaining discreet they adapt themselves to the surroundings you have created.
Flakes sizes

3 mm


5 mm


15 mm

Tint examples

Ref 45/053

Ref 25/133

Ref 15/223

Ref 13/213

Ref 44/553

Ref 46/193

Ref 54/423
Ref 44/613

Ref 67/203
Ref 17/173

Ref 17/373

Ref 48/893

Ref 66/153

Ref 55/403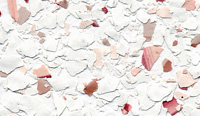 Ref 45 602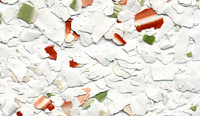 Ref 45 603
Ref 45 604